Fandom In Stitches
is a multi-fandom website that offers free quilt patterns for fans, by fans, including a large collection of
Twilight patterns
, thanks mostly to our very own hardhatcat's Block of the Month that was held here on
twilight_crafts
in 2010.
We are looking for designers to help with our
Request List
and to diversify the fandoms we represent.
If you'd like to be part of the awesome fandomy goodness, you can read about being an
FiS Designer right here
.
All quilt techniques are welcome; appliqué, traditional, embroidery, etc.
We hope to hear from you!
This is Esme Isle. The house is described as white with large windows looking onto the beach. I was going to originally going to piece the dolphin in the water as well, but was running out of time and as i already had this dolphin fabric in my stash, i decided to use that instead. Note that this image is an uncropped picture so once stitched into the final quilt the seam allowance is taken into account the sun will have more of a rounded image rather than the teadrop shown here.
This is my covered in feathers block. It was hard to find a background colour that would suit and still showcase the feathers well. I also used different cream tones for the feathers so that each was distinct in itself and to give a bit of feeling of depth to the image.
I'm looking forward to seeing all the blocks the others in my group have finished and once the overall quilt is completed!
I'm currently working with a group of others on a quilt for Breaking Dawn. The block i've worked on are for Esme Isle and the "why am I covered in feathers?" scene
We'd like to invite you to join us over on
Fandom In Stitches
for our first mini-challenge:
Runs With Wolves
!
The first person to make this awesome 10" quilt block designed by
hardhatcat
, the designer of the
Twilight Block of the Month
here on
twilight_crafts
will win a pack of Team Werewolf buttons.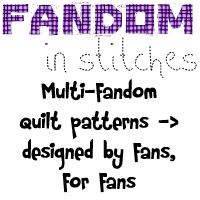 Hey,
twilight_crafts
! I have something awesome to share and it can't wait another minute!
Do you remember the exceedingly excellent
TwiBOM
designed and hosted by our own
hardhatcat
?
All of Cat's fantastic Twilight patterns, as well as the additional (and also fantastic!) patterns created by
liljabs
are now archived on the brand new website,
Fandom In Stitches
. FiS is a website devoted to the pursuits of quilty fandom. As the site continues to grow, we will including from many different fandoms. In addition to Twilight, soon, you can look for Harry Potter, Doctor Who, Lord of the Rings and many, many more.
Fandom In Stitches is just a baby and our very first page online is the
Vampire
pattern page, which which is where you will find the Twilight patterns. Also look for Buffy/Angel and True Blood!
Go, enjoy, and we'd love to get your feedback!
twilight_crafts
is proud to present the results f the Twilight Crafts Block of the Month (
TwiBOM
) Quilt Challenge!
First prize Receives
:
Twilight tee (shown below)
Fabric (shown below)
Winning icon (above)
by
liljabs
Runner-Up Receives
Twilight tee (shown below)
Winning icon (above below)
by
queenmlv
Prizes donated by
hardhatcat
A huge thanks to you both on behalf of
hardhatcat
and all of
twilight_crafts
for not only participating in the TwiBOM, but sharing your progress and making such gorgeous quilts out of your blocks!
Are you quilting, crafting or making Twilight? We'd love to see your crafts posted here! Have ideas for future craft-alongs, challenges, etc.? Please let us know!
The patterns are from
hardhatcat
the top 4 patterns are from her Twibom :) the classic film is
ofenjen
's and the hourglass at the bottom is mine :)
I've had this top finished for almost a full month now. I made this wall hanging for my sister,
twilight_crafts
recently changed our community guidelines and the way we deal with sales posts. Instead of one post where you can share your for sale items in comments, we're going to give individual sales posts a try. We would love your feedback on this.
Sellers, here are your guidelines:
Items must be
Twilight-related, hand-crafted items
All sales posts
behind an lj- cut
, they
will not
be approved without a cut.
Posts need to include the tag "for sale"
All items posted must be PG-13 or less in order to be approved.
Please include all appropriate contact information, links, etc.
Individual sellers may only make sales posts once a month.
When posting items for sale, the moderators at
twilight_crafts
encourage you to keep in mind this is a craft community and not a sales community. Posting your crafty goodness encourages others to create so please be aware that by sharing photos of your for sale work, you are acknowledging that you are also sharing your ideas and others may be inspired to recreate your work.
We have THREE gorgeous entries for
hardhatcat
's Twilight Crafts Block of the Month, fondly known around here as the
TwiBOM
! Thank you to everyone that made blocks and to the two crafty divas that finished your quilt tops in time for the challenge, well done on your gorgeous creations.
For everyone else...it's time to choose your favorite!
The poll will be open until Friday, April 15. You must be a member to vote. :)
Quilt 1 by
liljabs
Quilt 2 by
queenmlv
Quilt 3 by
queenmlv
Choose your favorite! (If you can!)
The winner will win fabulous prizes chosen by
hardhatcat
. Details on that to be added soon.
Still haven't made your own Twilight quilt? Well, why not?
hardhatcat
's gorgeous block patterns are
archived here
! Don't know how to paper piece? Not to worry,
we have you covered
there, too!
Visit the
Twilight BOM Flickr Group
for more great photos.
Due to my overlooking one of the wonderful entries for the TwiBOM Challenge, we've reset the poll to include the overlooked entry. Please have another look and vote for your favorite! You have my most sincere apologies for the mistake.
Twilight Block of the Month
quilt here to
twilight_crafts
or in our
Flickr Group
, please do it now and leave a link to your photo in this post so we can find it!
Reminder: The quilt tops will need to be made up of at least 80% blocks from either the Beginners or the Advanced sets of
twilight_crafts
BOM blocks.
The poll for the challenge will be posted later today, so be sure and check back!
If you have not posted your